Walk in Shower Planning Ideas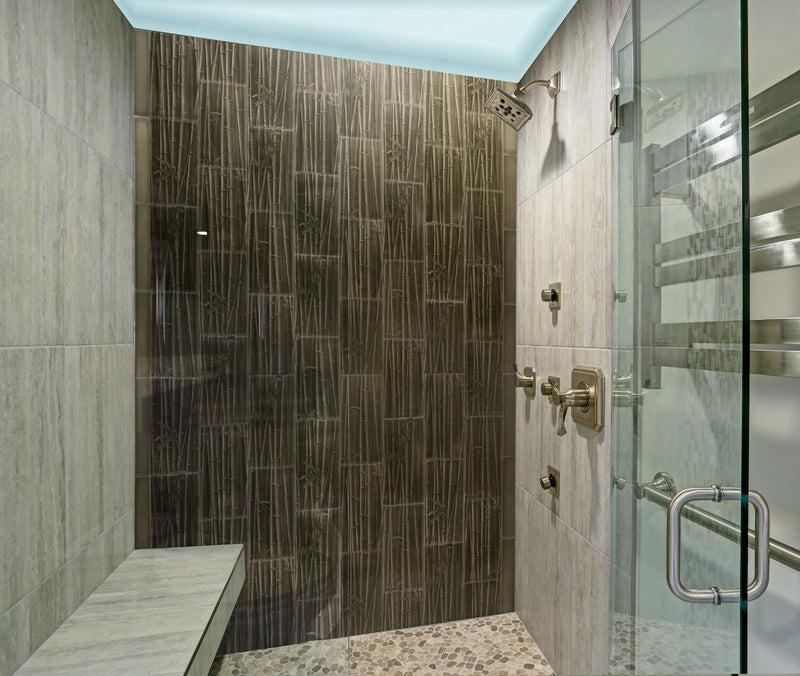 Walk in Shower Planning Ideas
If you're in the planning stages for designing a walk-in shower, you're probably a bit overwhelmed by all of the options available. At Living Walls Tile, we're here to help, as we've seen the good, the bad and the ugly when it comes to walk in showers.  While we are obviously focused on making the decorative tile for your bathroom shower, we also know that even with nicest tile, a poor design will leave you less than satisfied with the results.
Walk in Shower: Door or Door less?
If you have the space to design a walk in shower without a door, you'll be rewarded by the ease of maintenance and open design. Door-less showers do require a bit more space as there needs to be an entryway where some water can safely splash without splashing out into the general bathroom area. Some of this splashing can be mitigated by mounting the shower-head so that it angles toward the rear wall of the shower and away from the entryway. Mounting the shower head and faucet controls in the outside corner of the walk in shower so it angles back into the shower, solves this problem nicely, and also can incorporate an access panel to the plumbing behind the fixtures if maintenance is needed.  Removing your beautiful tile to replace a leaky faucet handle can make routine repairs much more costly.
Walk in Shower Lighting
We can't stress enough the importance of quality lighting when it comes to walk in shower design. Whenever possible, avoid overhead lights! While it may be quicker to simply install an overhead waterproof light, the rewards for a more thoughtful design will pay dividends when it comes to years of enjoyment from using your shower. Overhead lights tend to make your shower feel like a utility room, and your body like the project at hand. Overhead lights are best for illuminating the top of your head, which you can't see while you're in the shower anyway. Instead, opt for in-wall LED light strips. These strips are readily available, cheap, efficient, and they last for years without the need for replacement. Incorporating lights into the walls of your shower will not only be more functional, allowing you to see better, they are also more beautiful as they provide an ambient glow to your shower! In addition, Living Walls Tile has a glossy surface glaze, which is highly reflective, so installing oblique lights into your shower will make your tile glow, rather than act as a reflective mirror.
As always, we're here to help. Don't hesitate to send us photographs of your design ideas, bathrooms your planning to remodel or just call with any questions you might have at 406-728-5536.