What Backsplash Goes with Farmhouse Style?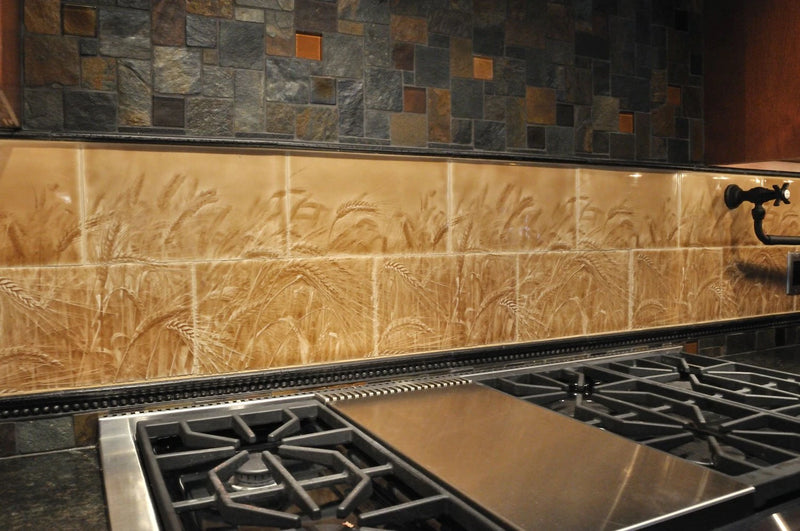 What Backsplash Goes with Farmhouse Style?
Unlike many plug and play design trends in the tile industry, the farmhouse style is one which often leaves people asking, "What backsplash goes with Farmhouse Style"? The answer to that question, is that there is no correct answer. In fact, the farmhouse style is one of the most flexible kitchen designs, and the possibilities are wide open! Because farmhouse kitchens commonly have white cabinets and walls, which create a very neutral environment, the tile backsplash is a perfect place to play, have fun and add an element of distinction to your kitchen. It's almost as though the farmhouse kitchen is an art gallery and the backsplash, the art and main focal point in the room.
While traditional farmhouse style backsplashes most commonly use plain white, often subway shaped tile, the contemporary farmhouse can come alive with a splash of color. Not garish, synthetic looking color, but rich earth tones that are warm and inviting, creating a pleasing, biophilic design that will never go out of style. At Living Walls Tile, we mix all of our glazes in house from natural materials, which makes our glaze colors as rich and complex as nature itself. The colors found in leaves, grasses, wheat fields and wood are our source of inspiration because they strike a balance between vibrancy and subtleness.
Just like an art gallery, you'll also want to pay close attention to how your backsplash is illuminated. If you're installing your farmhouse style backsplash underneath cabinets, it's a no-brainer decision these days to go with LED strip lighting. These small strips of lights often come with adhesive backing, making theme super easy to install. Install them on the underside of the cabinets, hidden behind the bottom molding strip. This will not only provide a very functional light source for your countertops, but will create a beautiful glow on your artistic tile backsplash. If done correctly, it will almost create the illusion that the tiles themselves are the glowing light source!
We offer a wide variety of biophilic designs to help you answer the question of what backsplash goes with a farmhouse style kitchen. We also offer a variety of lengths and widths of trim and border tile to accommodate various installation shapes and sizes. Bring the outdoors inside with your unique Living Walls Tile farmhouse backsplash!