Handmade Artisan Tile for Kitchen and Bathroom Backsplash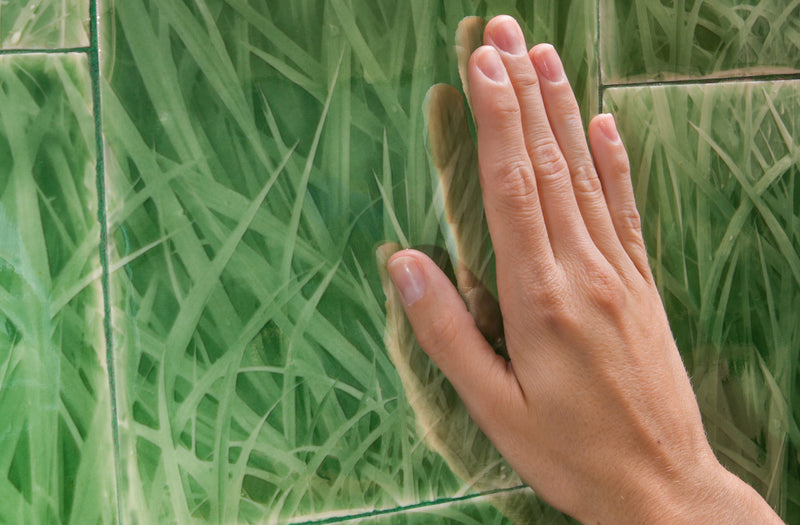 Are you looking for unique kitchen backsplash ideas? Do you want to turn your bathroom into a serene oasis? One-of-a-kind tiles bring color, depth, and character to your home. Transform your living spaces with eye-catching artisan tiles for your kitchen and bathroom.
From tiles that are created to look like flowing wheatfields to backsplashes with realistic marine life, you won't find tiles like these at your local retailer.
What Are Artisan Tiles?
Artisan or artistic tiles create a true one-of-a-kind work of art. Artisan retailers make handcrafted tiles rather than using generic, mass-produced store-bought tiles that add plenty of personality to your kitchens and bathrooms. Some styles are so unique that you may even want to use them in other areas of your home.
Need a little more style inspiration? Here are a few handmade artisan tile backsplash ideas to get your creative juices flowing. We bet you haven't seen these styles before.
Backsplash Ideas for Your Kitchen
Backsplashes aren't just there to combat the inevitable oil splatter; you can use them to add dimension, character, and charm to your kitchen.
Native Grasses Tile - Your backsplash sets the atmosphere of your kitchen. Bring the hues of the outdoors into your home with a unique Native Grasses Tile. These tiles are photo-realistic and look like natural, flowing long grass.
Wheat Tile - Our Wheatfield Backsplash tiles help complete the ultimate Farmhouse Kitchen design. Created to resemble growing wheat in a natural field, these tiles evoke feelings of calm, restoration, and harmony.
Backsplash Ideas for Your Bathroom
Your bathroom should be a place where you can relax, rejuvenate, and refresh yourself. So look for tile that helps promote feelings of calmness and relaxation.
Ocean Water Tile - Elevate the look of your bathroom with backsplash tiles that depict an image of peaceful, open water. Get the illusion you're looking deep into the ocean. The deep blue hues spark feelings of serenity while the calm waters help you feel relaxed and calm.
Little Fish Tile - This unique bathroom backsplash idea features a school of friendly little tropical fish. Feel like you're on a scuba diving trip every day from the comfort of your own bathroom.
Tip* To create the ultimate aquatic-themed bathroom, use the Little Fish Tile in your shower!
Lily Pond Tiles - Create a friendly, serene fish pond tile mural in your bathroom. You can create a theme to fit perfectly with your space. For example, the color green is associated with refreshment, peace, rest, and security. At the same time, the Great Blue Heron, Largemouth Bass, Sunfish, Lily Pads, Cattails, Frogs, and Open Water tiles come together seamlessly to create an art piece on your wall.
Where to Buy Artisan Tiles
At Living Walls Tile, we're artisan retailers specializing in tilework that ignites and encourages the senses. Each tile is handmade using methods that date back to the 1800s and early 1900s by American art tile companies.
We're here to help upgrade your living spaces with artisan tile designs inspired by nature. Shop our porcelain tiles to bring striking hues, patterns, and themes of nature into your home.